International attention? We've got it. Global distribution and streaming success? You bet. Prestigious awards and festival presence? Check and check. Hot off the presses of Telefilm Canada's new annual report for 2019-2020, here are nine Canadian films that are bringing our industry's awesome creativity to the world!
Sophie Deraspe's Antigone
With sales in the U.S., Italy, France, Belgium, Israel, Mexico, and South Korea (international sales by WaZabi Films), this feature snagged a major win at 2019's Toronto International Film Festival: Canada Goose Award for Best Canadian Feature Film. Antigone was also Canada's submission for Best International Feature Film at the 92nd Academy Awards.
Jeff Barnaby's Blood Quantum
This zombie thriller opened the Midnight Madness section of the 2019 Toronto International Film Festival, and sold to AMC Networks' Shudder streaming service, available in the U.S., U.K., Ireland, Australia and New Zealand. The film was also sold in Germany, Italy, Asia, and the Middle East.
Jeff Chan's Code 8
The unofficial honour for largest crowd-funding campaign for a Canadian film (so far) goes to this genre film, which raised $2.4 million in a little more than a month! Indeed, the Internet has been a friend to Code 8, which hit the Netflix top-10 in the U.S., U.K., France, Finland, Mexico, Brazil, Chile, Australia, Netherlands, and South Africa, with major streaming revenues through Apple, Amazon, and Vudu.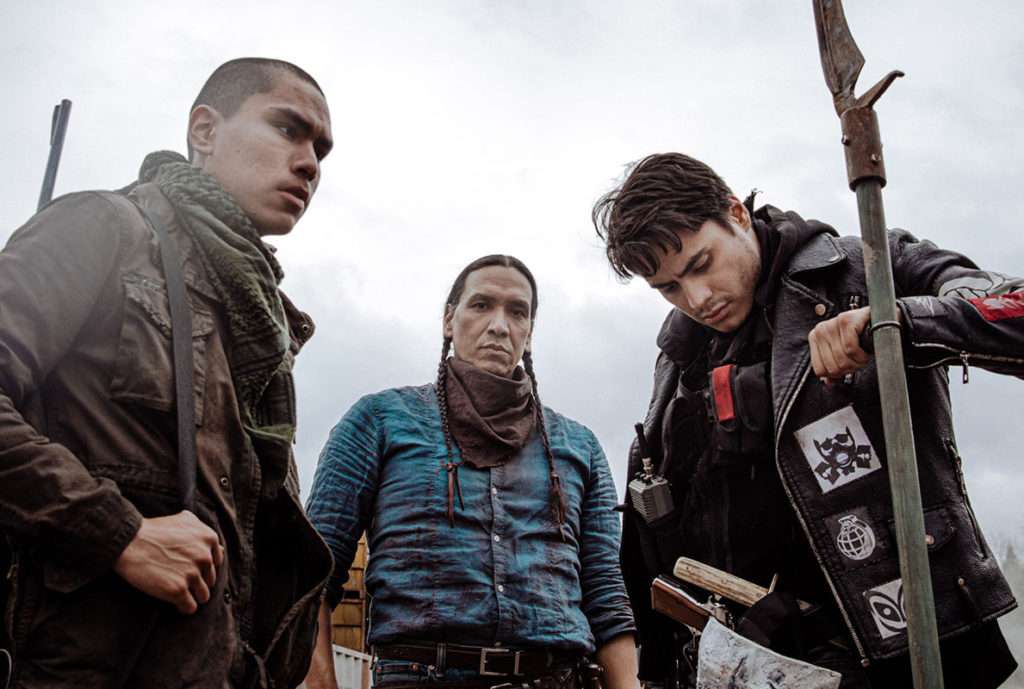 First features
Shelagh McLeod's Astronaut
Richard Dreyfuss stars in this festival circuit hit, which was released in the U.S., U.K., and Australia, too. It made the international rounds, from Montreal's Fantasia International Film Festival, to New Mexico's Las Cruces International Film Festival, Italy's Taormina Film Fest, and the Edinburgh International Film Festival.
Heather Young's Murmur
This Talent Fund-supported flick shone bright during its festival run. It earned the FIPRESCI Discovery program prize at TIFF and the Narrative Feature Grand Jury Prize at the Slamdance Film Festival! And at the FIN Atlantic International Film Festival this debut won best Atlantic director, best Atlantic feature, best Atlantic cinematographer, and best Atlantic screenwriting.
Matthew Rankin's The Twentieth Century
Set in 1899, this fictional glimpse into the early life of William Lyon Mackenzie King (who went on to become Prime Minister of Canada) premiered in TIFF's Midnight Madness section. It also scooped up distribution deals with Oscilloscope Laboratories (U.S. rights), Maison 4:3 (Canadian rights) and Belgium's Best Friend Forever, for other territories. Awards include the FIPRESCI prize at the 2020 Berlin Film Festival and the top Competencia Los Cabos Award at the Los Cabos International Film Festival!
Mélanie Charbonneau's Fabulous (Fabuleuses)
Fabulous (Fabuleuses) wowed at the 2019 Busan International Film Festival, taking home the Busan Bank Award and a South Korean distribution deal! (Plus, at the Rendez-vous Québec Cinéma, this tale about three friends growing up amongst social media and influencers got the Gilles-Carle prize for best first or second film.)
Aisling Chin-Yee's The Rest of Us
Heather Graham stars as a single mom alongside Canadian actor Sophie Nélisse (who in 2016 was selected as a TIFF Rising Star)! Scoring a U.S. distribution deal, this family drama had its world premiere in the Discovery section of TIFF 2019.
Nicole Dorsey's Black Conflux
Also debuting in TIFF's 2019 Discovery section, this coming-of-age drama that takes place in 1987 Newfoundland was named to the 2019 TIFF Top Ten! P.S.: Performances by the film's leads (both Canadian talents!) turned heads at the Whistler Film Festival; Ryan McDonald was named one of four WFF Stars to Watch, while Ella Ballentine won an honourable mention for Best Actor.